Nexus 7, Nexus Q Share Spotlight at Google I/O 2012 (GOOG) */?> Nexus 7, Nexus Q Share Spotlight at Google I/O 2012 (GOOG)
June 28, 2012 3:44 pm

·

Let's be honest. Sure it's cool that Gmail and Google Chrome now respectively boast some 425 million and 310 million active users. It might be even more impressive that after only two months since it went live, Google Drive has already attracted 10 million users, thanks in part, I'm sure, to its increased compatibility across operating systems. And Google Plus, well, nevermind. But amidst the remarkable statistics and the talk of Chromebooks at Best Buy, what people are really excited about when it comes to this year's Google I/O developers conference are Google's latest additions to its Nexus hardware business—the Nexus 7 and the Nexus Q.
Nexus 7 Gets Apple-like Intro, Still No Match for the iPad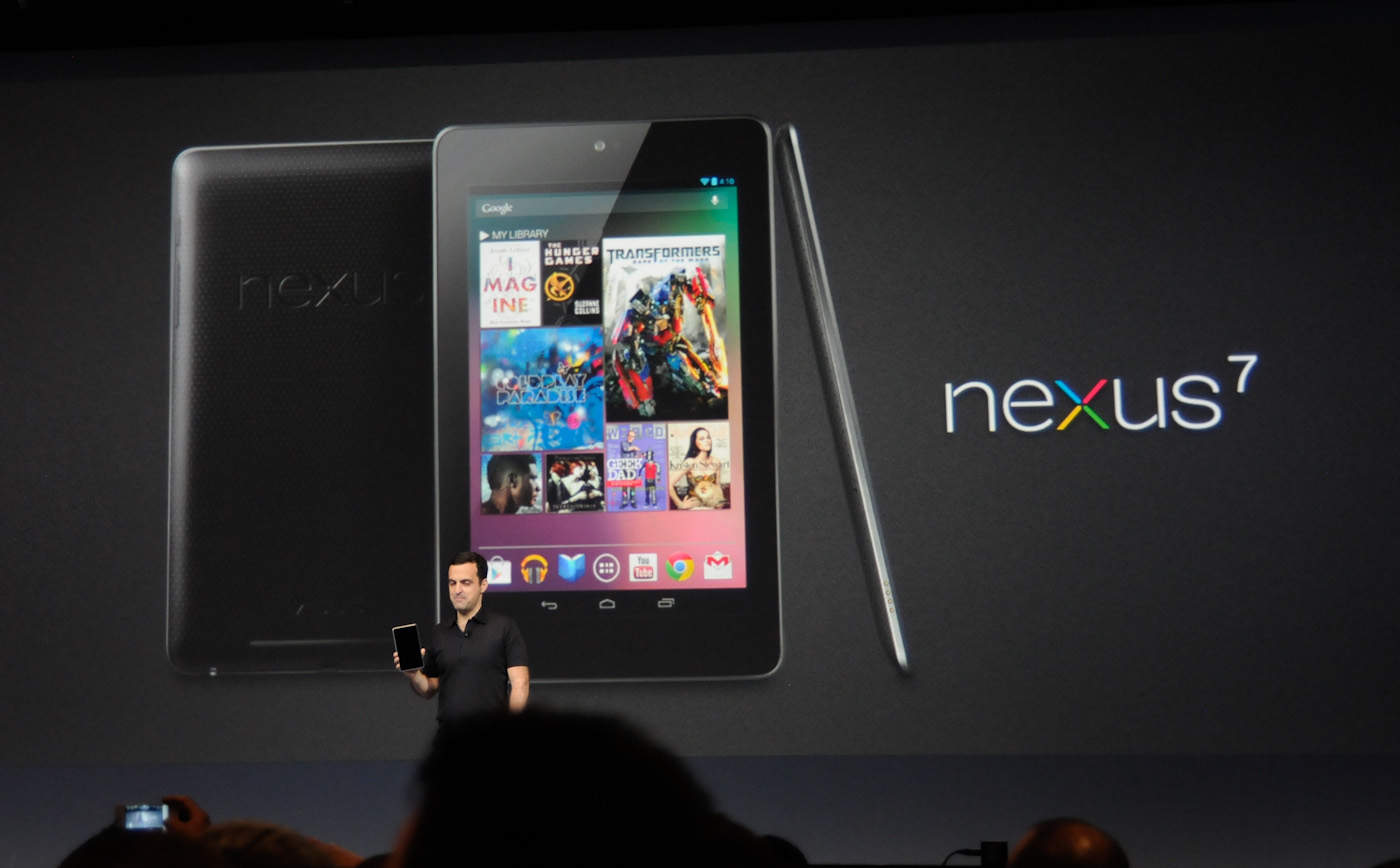 Say what you will about Google (Lord knows I have!), but one thing that's tough to deny is how impressively the Web giant slow-played consumers in unveiling its pilot tablet. From the obscure newspaper article to the ASUS partnership rumor to what was surely an "unintentional" benchmark leak, Google clearly made a call out of the Apple playbook—and ran it to perfection.
Capitalizing on the first keynote of the conference, Google finally broke the suspense when it introduced the Nexus 7 to its developer-filled audience.
The tablet's specs include an HD 1280×800 display, a quad-core Tegra 3 processor, 1GB of RAM, integrated NFC, a front-facing camera, and an up to 9-hour battery. Check out this quick two-minute video for a closer look:
Purportedly intended to cut the Apple iPad's share of the tablet market down to size, the 7-inch tablet, which is already available for preorder, is in many ways a Google lover's dream come true. Pre-installed with a mobile version of Google Chrome, Google's new Android 4.1 Jelly Bean operating system, and the latest version of the recently ostracized Google Maps, the Nexus 7 couldn't be any more Googleful. And attractively priced at just $199, I'm sure that Google won't have any trouble getting them into users' hands.
However, that price point is just the first among a number of clues that suggest Google's new tablet may end up being a more suitable competitor for the Kindle Fire than the iPad, not to mention quite capable of undercutting its already-struggling Android partners out of the market if it's not careful. Adopting an Amazon-like philosophy for its tablet, the Nexus 7 acts in many ways like a portal to the Google Play store, where users can access ebooks, stream movies, download apps, and listen to music. Of course, with "Made for Google Play" as one of the major selling point of its new tablet, it's silly to think Google is trying to hide the fact.
With the initial Kindle Fire buzz now in more of a lull (at least until the next one gets here), Google might just sweep up the stagnant bargain tablet market for itself in the meantime. But as BGR's Zach Epstein points out, the Nexus 7 is still no match for the iPad:
So, Google brought a knife to a gunfight. The hardware isn't as sleek, the software isn't as user friendly and the content market isn't as established. It won't beat the iPad, but it's not supposed to. The goal isn't to win the battle and steal iPad users from Apple, it is to undercut the iPad and grab as many new tablet buyers as possible in this emerging market. The goal is also to force other Android vendors to do the same.
While I'm sure that Google would object to Epstein's assertion, at least in theory, there is no denying that at the top of Google's ad revenue driven priority list is one goal: Getting consumers indoctrinated into their mobile ecosystem.
Nexus Q: Google's American-Made Entertainment Orb
Touted as "the world's first social streaming media player" (sounds like a messy jumble of social media, streaming, and media player if you ask me), the Nexus Q seems to be Google's version of the Apple TV, but different—maybe even better to some. With hardly a whisper of the device's existence before Google I/O, the Nexus Q allows users to turn their home entertainment systems into Google hubs. By using an Android phone or tablet, users can use the Q to listen to music and stream videos and movies on their televisions without having to download or sync anything.
"Just use the Google Play and YouTube apps on your Android phone or tablet to surf an ocean of music, TV, movies and videos, and the Nexus Q will play it all on the biggest speakers and screen in the house," Google explains.
The Nexus Q comes equipped with a host of features, including a built-in amplifier, speaker inputs, as well as Ethernet, Micro AB USB, and Micro HDMI inputs. The entertainment orb also runs the Android 4.0 Ice Cream Sandwich operating system and has wireless Wi-Fi, Bluetooth, and NFC connectivity. To get a closer look at how it works, check out this even brief video:
All in all, it's an interesting device to say the least. No doubt Google has its sights set on the whole-home entertainment side of things with its new creation. By integrating the Google ecosystem into the way that people listen to music and watch television, among other things, the Nexus Q may not only be "the world's first social streaming media player." It might also be one of the first times Google has proactively developed a piece of hardware, rather than simply trying to keep up with its Cupertino nemesis.
Perhaps even more of a blow against Apple, though, is the fact that the Q is made in the United States. And Google's making sure that people know it. "We've been absent [from the U.S.] for so long, we decided, why don't we try it and see what happens?" explained Google VP Andy Rubin when he spoke with The New York Times.
During a time when Apple is under considerable pressure to improve the plight of the Foxconn workers that manufacture and assemble its iPads and iPhones, Google may have found a way to seize the moral high ground as it seeks to distinguish itself with the Nexus Q. Even after vows to improve the situation—even becoming the first tech company to be a participating member of the Fair Labor Association—Apple's plan to resolve the problem has been slow going at best, and miserably ineffective at worst.
Meanwhile, under a banner that is sure to attract "Made in America" nationalists and more globally minded humanitarians alike, Google is right where it wants to be as it takes on this new venture with the Nexus Q.  However, with a manufacturing "tipping point" predicted by analysts to usher in a "manufacturing renaissance" in the U.S. around 2015, the clock is ticking down on such a distinguished status.
Experts Exchange is a technology help site with a patented Q&A system that makes finding solutions easier. People ask questions and experts from around the world provide reliable answers. Try it free for 30 days.
For more on Google's Nexus 7 tablet and the Nexus Q…